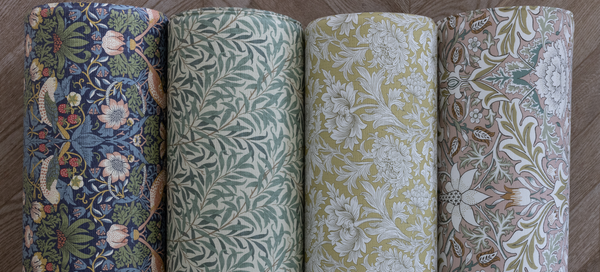 The 2023 Collection: Totter + Tumble x Morris & Co.
The news is out! Say hello to four new Morris & Co. masterpieces in our Totter + Tumble playmat collection.
The four-piece collection showcases timeless Morris & Co. designs on our luxury Totter + Tumble playmats. Continuing our partnership first launched in 2022, this collaboration highlights our founding principle, that family interiors can be both stylish and practical.
Heritage group Morris & Co, nurtured by influential Arts & Crafts pioneer William Morris, uphold the same values that its founding father in the nineteenth century was driven by. That is to live alongside considered, crafted objects, to see beauty in simplicity and to be inspired by nature.
The second collection from our collaboration continues to draw on the beauty of the Great British countryside as was favoured by William Morris himself. Decorative florals, leaves, fruits and hedgerow animals feature in the iconic designs. 
Susie Stubbs, founder and CEO of Totter + Tumble says:
Because one size doesn't fit all, the collection is available in our Standard, Compact, Round and Play Runner sizes. So whether you need a practical, wipeable rug or supportive mat for exercise, we have the perfect playmat for you.
As with the 2022 Totter + Tumble x Morris & Co. collection, we hope you love our 2023 selection as much as we do.
Meet The Strawberry Thief + The Willow Boughs and The Chrysanthemum + The Severn.