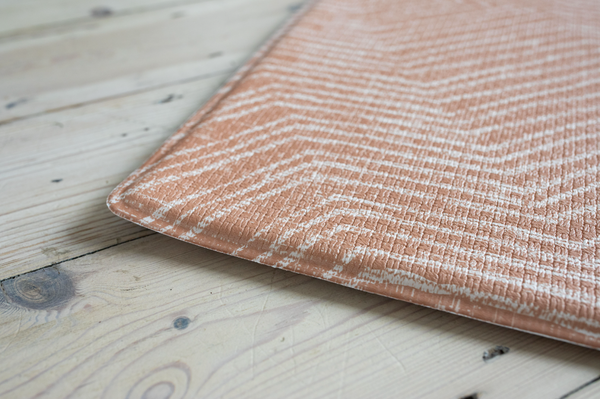 Meet The Playmat: The Captain
Within our Kilim collection, The Captain is an earthy terracotta playmat with a textural rug-like design.
The Colour Palette 
The terracotta clay Captain has an organic richness to it, like the pigment of earth, and is complemented with an off-white Kilim pattern for the aged effect.
The Pattern History 
Kilim rugs are of Turkish origin and the name is used to describe a pileless rug, made using a flatweaving technique. Created by artisans for thousands of years, the explorer Mark Aurel Stein found kilim rugs dating to the fourth or fifth century, in Hotan China, but they remain a favourite floor covering in homes today. Kilim weavers often favour diagonal, geometric patterns and can include symbols within the motif
The Vision
The Stats
Because we know one size doesn't fit all, The Captain is available in two sizes. The Standard works as a multipurpose, alternative to an area rug and the Compact is ideal for play spaces in open plan living rooms.
In Real Life
The Captain is a beautiful warm design that complements modern, near neutral family spaces.