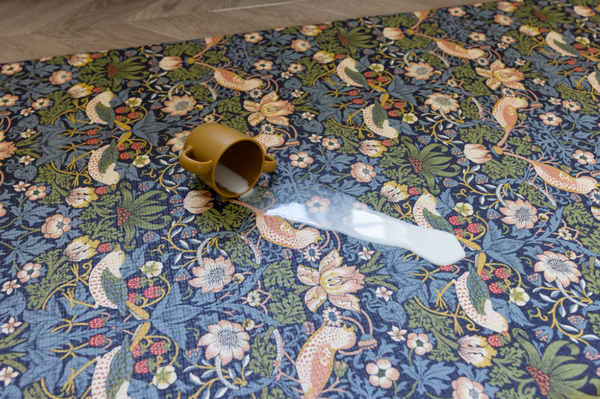 5 reasons why you need a Totter + Tumble kitchen mat
Versatile Totter + Tumble Runners are ideal as kitchen mats, offering thick memory foam for anti fatigue support.
Designed to keep your home beautiful, the runner collection is available in timeless motifs and colour ways, to complement your well-considered interior. You don't have to settle for less. 
Here are five reasons why you should add a runner (or two) to your basket.
1. Made with the same soft-as-a-cloud memory foam as our bestselling, large playmats, our supportive kitchen mats reduce stress on your feet, back and joints, allowing you to prepare food, wash up or work from the worktop in comfort.
2. Spills, schpills! A durable, waterproof surface means spillages can be cleaned up without fuss. Plus, the closed cell surface won't harbour household dirt like textile mats. Simply wipe with a damp cloth to remove mess and carry on with your day.
3. Who said practical can't be stylish? Available in the heritage Morris & Co. collaboration designs as well as the 2023 Ikat collection; our pretty kitchen mats look at home, in your home.
4. Today it's a kitchen mat, but tomorrow it could be an exercise mat, bath mat or bumper mat beside a child's bed. The narrow, versatile size is ideal for lots of spots around the home, providing protection just where you and your family need it.
5. In a large kitchen space or for a matching aesthetic in the utility room, take advantage of our newsletter subscription offer and get a special price when you purchase two together.
Shop our Runner collection here.
How to care for your kitchen mat
Totter + Tumble playmats are designed to be simple and that includes caring for them.
* For a quick clean, use a soft cloth or muslin and washing up liquid with a touch of warm water. Using gentle, circular motions, work the bubbles into the textured surface to remove any stuck in grime.
* For accidental stains, a bicarbonate soda paste will lift most marks but do be careful with things that could stain heavily, such as tomato-based sauces, food colourings and art supplies. When it comes to kids art time, washable paints means machine washable, not wipeable.
* For the full valet, hose your mat off outside before soaping it up as above. This is great for providing peace of mind after any pet related accidents in the home.
Read our full playmat care guide here.