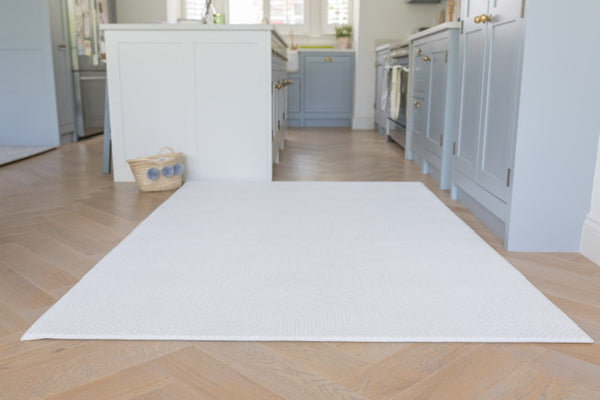 Ideas for adapting your home for active kids
Our homes change forever once children arrive. Alongside new routines and the addition of so many extra things, there is also a need to adapt our spaces to ensure they are practical and kid-safe, especially for when they are on the move. But this evolution of adult space into family-friendly, doesn't need to result in a home you no longer feel is yours. For baby days and beyond, here are our top tips for creating interiors that work for you and the newbies.
Wipe Clean Walls
From dribble and drool to sticky biscuit fingers, it can seem that our homes (and our clothes) will never, ever be clean again. And while a little mess isn't a bad thing, some simple tweaks can make the tidy up operation much quicker. One tip is to utilise non-toxic bathroom or kitchen paint in the rooms that kids spend the most time in. It's magic because it wipes clean! Alternatively, tap into the Pinterest trend for two tone walls by painting the top half in your regular emulsion and the bottom in a gloss - the ultimate wipe down and a modern twist on the period charm of a dado rail. We particularly recommend this in the hallway, when you come in from a rain shower with the buggy or with little puddle jumpers. 
Kid-Friendly Furniture
Once they start moving and cruising, the toddler proofing begins, taking breakable things to a higher level and putting stair gates in place. These adaptations are easy, but when it comes to big, investment buys for your growing family home (we are talking sofas and other large furniture items) our top tips are to buy low and smooth. Low, because it keeps them safe while clambering and the inevitable jumping off and smooth, because rounded edges and corners, prevent painful knocks and take away a need for stick on corner guards, which are an eyesore and kids pull off anyway.
Stylish Indoor Play 
We've mentioned kids clambering and jumping, and while you don't want them on top of the kitchen table, it's great to encourage them to be active, especially while physical classes like The Little Gym aren't in action. We're all about active play products which encourage kids to let off steam and develop gross motor skills, but which don't compromise our contemporary interiors. Open-ended boards by Wobbel, climbing wall bars by KAOS (which double up as storage!) And the foldable, space-saving Tri-Climb, are our favourites. Don't forget a protective playmat to support them as well, with two different sizes and 12 different styles available in Totter + Tumble's luxury, family-friendly range.
Accessible Storage
Storage. It's something we all wish we had more of at home, particularly when kids come into the mix. Clever storage hacks are the way forward, from portable nappy caddies which move around the house for easier changing when kids won't stay still, to repurposing cupboards to store the things you really, really need on-hand. For open plan living spaces, we find 'Doing a Hinch' on kitchen cupboards often frees up a spare one. And while this may sound strange, use it to store small toys which you can whip out to keep them entertained as you clean or cook. Be sure to make use of spaces under beds and sofas as well, for clutter-free but accessible storage.