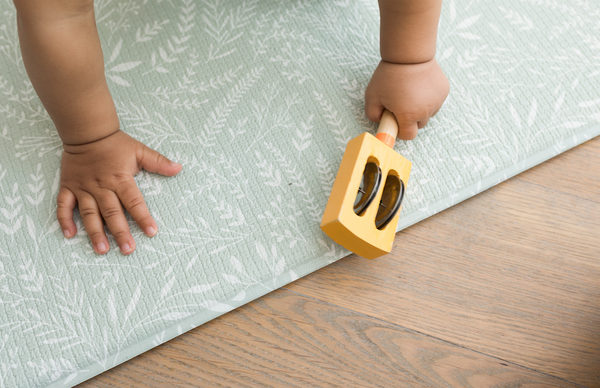 Meet The Playmat: The Rambler
The Rambler

 

is a delicate floral design, inspired by the abundant Great British Countryside. In a beautiful sage tone, it complements both cool and warm shades in the home.
The Colour Palette
The fresh sage was picked to not feel gendered, while also being a stylish and complementary hue for family homes. The gentle motif is reminiscent of wild meadows, but is kept without vivid colour, allowing the design to sit subtly.
The Pattern History
Floral motifs can be traced back to Ancient Egypt. Art historians believe specific floral patterns in Egyptian creations had special meanings, as well as adding embellishment. The beauty of flowers and natural scenes have inspired artisans ever since, with motifs often adorning textiles for clothes and home furnishings still to this day.
The Vision 
The Stats
Because we know one size doesn't fit all, The Rambler playmat is available in two sizes. The Standard works as a multipurpose, alternative to an area rug and the Compact is ideal for play spaces in open plan living rooms.
In Real Life
The Rambler is pretty playmat for anywhere in the home. The soft sage sits well against white and neutrals, a perfect pick for a gender-neutral nursery.