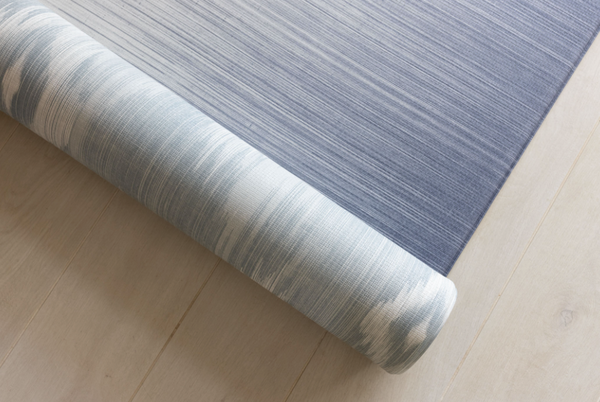 Trends | The Curator's House + Discovery
Inspired by textural Ikat woven textiles, our first Ikat designs, created in-house, have the aesthetic of a rug alongside the practical features of a playmat.
Here we take a look at first reversible duo
 The Atlas and The Kasuri, exploring current interior trends they complement. 
The Atlas
 is a relaxed, diamond Ikat design in powder blue and warm white-grey tones. Inspired by global Ikat textiles, it is a practical alternative to a rug in the home; a perfect fit for
the Curator's House
trend, a move on from the minimalist trend where family homes are curated with special pieces from travels as well as new heirlooms.
Curiosity cabinets are ideal for displaying precious keepsakes, with wooden fronted or curtained cupboards to store away everyday essentials out of sight. Vintage sari fabric or hand blocked textiles can be framed as wall decor or used to upholster bespoke foot stools. Heirloom toys, such as rocking horses, are sourced from artisan markers.
The Kasuri design combines a gradient Ikat with deep indigo blue and almond tones to create a visually striking ombré effect. Inspired by traditional textiles practices, it's a beautiful baby mat to complement the Discovery trend, where a fresh fascination for ancient earth inspires home styling. 
Elements for the trend include totem-esque decorative accessories, sculptural furniture and patterned wallpaper or textiles inspired by Hieroglyphic or ancient symbols. Toys include simple stacking pebbles in sensory stimulating metallics and statement lighting.
Discover our AW23 Ikat Collection here.