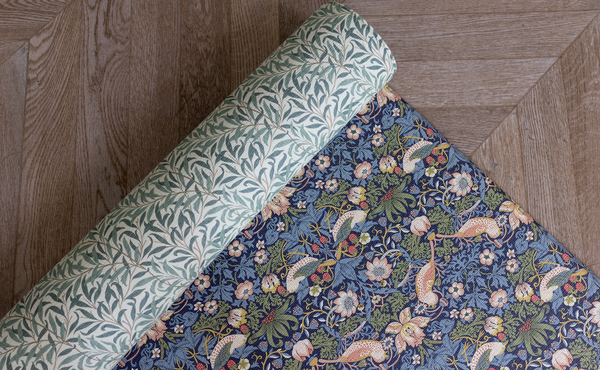 Trends | Strawberry Thief + Willow Boughs
Welcome to a deeper dive into the 2023 Totter + Tumble x Morris & Co. collection.  
The designs, while steeped in nostalgia, are ideal for unrolling into modern interiors. Discover which current interior trends these heritage patterns complement.   
Here we take a look at Strawberry Thief + Willow Boughs. 
The Strawberry Thief design, iconic of Morris & Co. balances a palette of muted, natural colours on an inky, indigo-navy blue background. This decorative design is perfect for The Homestead trend seen increasingly for interiors, where heritage elements and antique pieces are styled in the home, with a subtle modern twist. This trend evolves from the New Victorian trend from 2022.
Features such as wooden wall panelling and spool-turned, bobbin furniture are key for the trend, along with damask, paisley and vintage floral motifs. Heirloom items are brought into the home and newly purchased products such as the Meminio Memory Box, is created with a vintage-appeal, while storing precious moments of the new generation.
Consider complementing with Morris & Co. Strawberry Thief and deep navy paint shades, rummage antique markets for decor, be inspired by classic, timeless makers such as deVOL and invest in long-lasting furniture that can be passed on.
On the reverse, The Willow Boughs design uses tonal green and tan tones picked from nature, against a barely-there, aged-yellow base, which responds tonally to the light in the space. It's the ideal pick for Considered Calm interiors, a trend that favours organic textures and shapes, a stripped-back, earthy colour palette and sculptural, artisanal touches - a step on from the Bio Artisan trend from 2022.
Features such as organic shaped light fittings and textured, linen textiles are combined with a tight, tonal colour palette. There is a minimal feel, every item has a considered place to keep the home light, airy and clutter-free. Houseplants have a home here too, for a healthy dose of Vitamin N.
Consider using soft, aged yellow or tonal green paint shades alongside raw plaster or white-wash finishes. Update your sofa with a soft, linen covers like Bemz and invest in unique, handmade fittings and decor from craftspeople. 
Discover our full Totter + Tumble x Morris & Co. collaboration collection here.