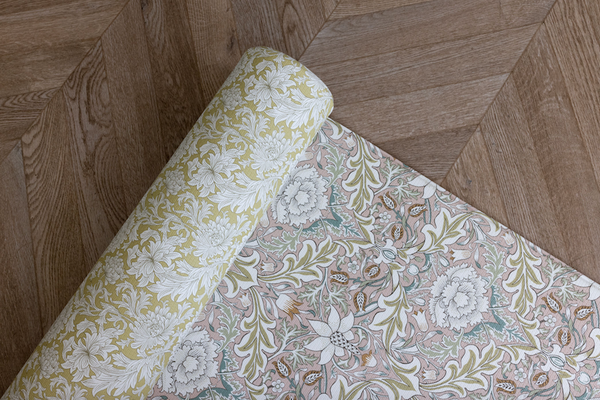 Trends | Severn + Chrysanthemum
Welcome to a deeper dive into the 2023 Totter + Tumble x Morris & Co. collection.   
The designs, while steeped in nostalgia, are ideal for unrolling into modern interiors. Discover which current interior trends these heritage patterns complement.   
Here we take a look at Severn + Chrysanthemum.   
The Severn design is soft and gentle, with dusty spring colours of rose beige, cotton white and tonal greens embellished with fine line marks and pointillism detailing. This elegant damask design, with a hand-drawn touch, is ideal for The Garden Room trend, where spaces are given a country cottage aesthetic using modern chintz elements and pastel florals. This evolves on from our 2022 trend Fresh Maximalism.
Features such as tongue and groove panelling and crafted wicker or rattan furniture are focal for the trend, alongside whimsical, muted floral patterns.
Consider complementing with a range of pastel paint shades and mixed floral prints for a subtle nod to the Grandmillenial trend. For inside-outside rooms such as conservatories and open-plan kitchens with bifold doors, choose seating and tables that can be used outside, to create a living space on the patio on warm days.  
The Chrysanthemum design has a delicate aesthetic, with decorative white florals and fine, olive detailing, complemented against a muted, citrus background. The nostalgic appeal suits the current Midcentury Modern trend, where seventies style furniture, warm woods and chartreuse tones are highly favoured.
Midcentury-style furniture is key to this trend whether new or old, alongside enduring vintage motifs, from William Morris to Orla Kiely. Children will find joy in the simplicity of modernist wooden toys and mobiles.
Consider complementing with Morris & Co. Citrus Lime paint or an avocado tone, for a true midcentury effect. Search out retro furniture and accessories from Vinterior and inspired by the #MidcenturyModern Tik Tok hashtag, that has amassed over 800 millions views.

Discover our full Totter + Tumble x Morris & Co. collaboration collection here.