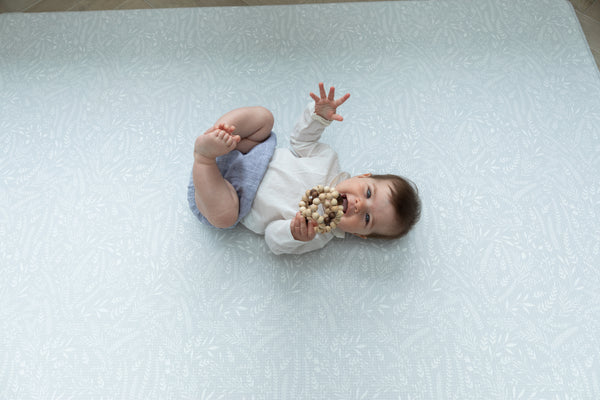 Totter + Tumble Support Circle: The Fourth Trimester
Series Two: The Fourth Trimester
The Totter + Tumble Support Circle series is rooted in connection and support. We have been inspired to create content that will connect you to businesses and resources who can support your unique parenting journey. 

In Series Two: The Fourth Trimester, we look at the transitional period between birth and 12 weeks postpartum and cover resources available for recovery, support and bonding. Please do seek support from your Midwife, GP or postnatal charities if you have any concerns.
Recovery
Birth looks different for everyone and you cannot know what recovery will look like for you. Whether you have a gentle vaginal, assisted vaginal, planned or emergency c-section, you will have different needs for the immediate and long term recovery. That will include elements of recovery physically and mentally, remember to always be kind to yourself during this period.
Postpartum Care - You cannot be fully prepared, but a healing kit at hand for the immediate days following birth is a good practical start. Ensure you have a soft donut pillow to make sitting more comfortable, calming creams and spritz for sore bits, arnica tablets for bruising and disposable or washable postpartum underwear. A supportive belly band is helpful for involution and can add that extra peace of mind following a caesarean. 
Nourishment - Nourishment for body and mind is critical following birth. Labouring may have been long and difficult, so it is important to choose nutrient rich food. If you haven't organised meals in advance, consider following a postpartum meal plan or better still, ask loved ones who may be eager to help in any way they can. Stock up on fruit, vegetables, grains and proteins. If you are breastfeeding, lactation cookies can really help in the early days, as well as continuing with recommended supplements.
Fitness + Wellness - When the time is right and you've got the green light from your doctor following your six week check in, gentle stretching is great for leading you back into exercise. If you want more structured exercise, a postpartum trainer may be useful or look for online classes catering for postnatal needs. If you experienced a more traumatic birth and required repair surgery, postnatal rehab may be advised;e. The movement when you start, even if very slow, should be a fantastic serotonin boost but if it feels too soon or sore, don't push it.
Support
You will have heard the expression 'It takes a village' in regards to raising children. Especially during the early weeks, helping hands are vital as you experience so many physical and emotional changes, combined with little sleep. Be confident in setting boundaries during this time of huge transition and always ask for help when you need it. 
Your Village - Whether in real life or at the end of the phone during twilight cluster feeding, building your own village can be a huge reliever of stress during the fourth trimester. You may need support with other children, someone to take over housework or words of encouragement on difficult days. Ensure your unique support network is made up with people happy to get stuck in, and not only interested in coo-ing over your new arrival; that could include friends, family, neighbours or a doula.
Expert Help - Expert postpartum help comes in lots of different forms. Alongside scheduled visits from midwives and health visitors, you may need practical or emotional support from other maternal wellness professionals. This could include breastfeeding or perinatal support workers or tailored help from a postpartum doula. If you are struggling in particular areas, you may find it useful to employ some of these services.

New Community - Sometimes you just need to know you aren't alone, and that feelings are totally normal following birth. Building a community of mothers who have had babies around the same time can be a real source of comfort, especially at 3 am. If you were part of an antenatal class or NCT group, your whatsapp group will naturally evolve into a place to share must haves, must nots and those candid middle-of-the-night poo explosion shots. Otherwise events such as The Mum Club and apps like Peanut and Mush connect you with mums in your area. 

Bonding
The transition to parenthood is something you could never imagine. If you have your baby in hospital, arriving home for the first time can feel totally daunting and unfortunately there isn't a manual telling you what you need to do. Follow your instinct and enjoy this special time bonding with your baby. Choose to do the things you are comfortable with and that bring you joy.
Soak it in - We are huge fans of the two week post birth rule, which encourages one week in bed and then one week on the couch after birth. You can adapt this to suit you and your family, but ensure you carve out time to soak in your new baby. There will be no routine at this stage, so relax, practice positive postpartum affirmations and enjoy the cuddles as much as you can. You may want to baby wear, allow contact naps, have skin-to-skin time and bathe together and if you are enjoying the alone time, say no to visitors.
Make Memories - Minutes turn into days, days to weeks and weeks to months. Time passes so quickly and seemingly even more so when you have a little one. Cluster feeding and weeks of no sleep seem endless, but one day you will be out of the other end and you may wish you had captured those raw, early moments. Be sure to make memories of your little love on photo and video, or organise an adorable newborn photoshoot. Hand and foot casings are an amazing keepsake and experience, also consider buying a special box for storing special memories from birth and beyond.
New Experiences - Don't pressurise yourself into socialising when your baby is tiny, but if you start to crave new experiences and some more structure to your week, you may want to look at baby classes in your area, such as massage and baby sensory. Your health visitors should be aware of classes in your area, or local community social media pages often have classes advertised on. If you aren't ready for in real life experiences, there are plenty of classes to stream online.
RESOURCE CENTRE
RECOVERY RESOURCES

SOUL SISTERS FITNESS @soulsistersfitness | Postnatal pilates to ease you back into movement

CARIFIT

@cari_fit

 | Babywearing workouts from the comfort of home

BOOBBIX

boobbix

 | Tasty lactation cookies to support milk production

MUM BUB HUB

@mumbubhub

 | Everyday essentials for the fourth trimester

PLACENTA PRACTICE @placenta_practice  | Capsules, creams and balms uniquely made for you

4TH TRIMESTER BODIES PROJECT @4thtribodies | Photo and Storytelling movement for postpartum people 

LOVE PARENTHOOD

@love_parenthood

  | Gentle Birth Trauma Support




SUPPORT RESOURCES

NAVIGATING PARENTHOOD @navigatingparenthood | Resources for the early years of parenting

&BREATHE @andbreathewellbeing | Postnatal retreats with a focus on self care and rehabilitation

LA LECHE LEAGUE

@la.leche.league

  | Volunteer led, friendly breastfeeding support 

MY EXPERT MIDWIFE

@my_expertmidwife

 | Products and advice for new mums, all in one place

FOURTH TRIMESTER COLLECTIVE @fourthtrimestercollective | Connecting mums to postpartum resources

THE HAPPY FEEDING CO. @thehappyfeedingco | Supporting all feeding choices

DOULA UK

@doulauk

 | Supporting families pre and post birth

TAKING CARA BABIES @takingcarababies | Helping babies sleep and families thrive

MUSH @mushmums | The app unites mums in pods of five – the proven perfect number for support, learning and fun

PEANUT @peanut | Connect with women in the same stage of life.




BONDING RESOURCES




THE MUM CLUB @themumclub | Connecting mums in their local area

LETS TALK BABYWEARING @letstalkbabywearing | babywearing educator

THE EDINBURGH CASTING STUDIO @edinburghcastingstudio  | Kits to cast tiny hands and feet at home

SARAH L FERGUSON PHOTOGRAPHY @sarahlferguson_photography  | Natural maternity and newborn photographer 

NATURALLY HAPPY FAMILIES

@chiara_babywearingmama

  | Babywearing consultancy and sling library 

HAPPY PARENTS HAPPY BABY @happyparents.happybaby | Baby classes you can stream from home

HARTBEEPS

@hartbeeps

  | Award-winning multi sensory classes from birth