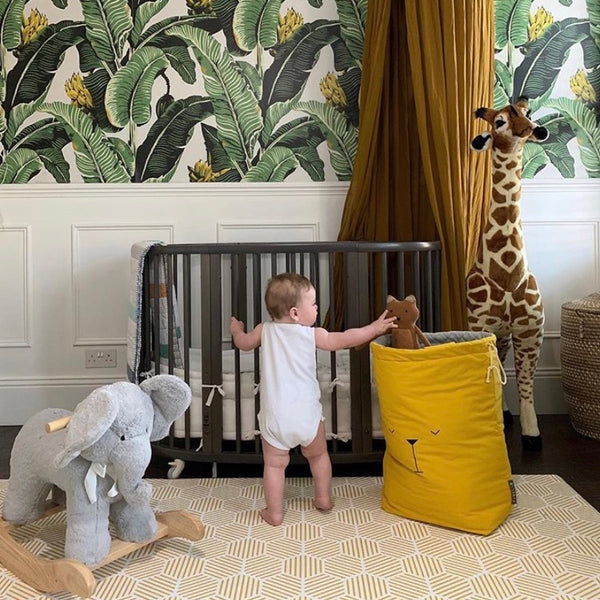 Favourite 5 Nursery Interiors
Having recently contributed to Living Etc Magazine, Child's Play February issue 2019, on how to style children's bedrooms, and with lots of you remarking that you are buying second Totter + Tumble playmats for your children's bedrooms, I have pulled together five of my favourites to share with you. Like Totter + Tumble designs, all of the styles are unisex and will have you lusting over them! Now which is your style?
With more and more people choosing the hard wearing and beautiful wood flooring for bedrooms, many people ask me about using Totter + Tumble playmats for the their nursery. Not only do the playmats practical for a quick nappy change or for after bath time, they won't move around like a lighter playmat or washable rug. Plus they look terrific.
Modern and Mixed
Alexandra Steadman, of The Frugality, has well documented the beautiful renovation of her home, including the stunning nursery for her daughter. Rich with art, an accent picture rails and a mix of textures and heritages, this room is both a sanctuary and an inspiration for its owners. To find out more, head to Alexandra's blog here.
Calming
No, pirates and treasure maps are not just for boys! This nursery's wallpaper was already in situ when the owners bought this home, but the gentle colours and delicate design made it perfect for a sun trapped nursery for their little girl. With carpets laid, their Totter + Tumble playmat protects their cream carpet, which even a rogue smudge of sudocream can ruin. 
Bold and Beautiful
Amanda, of @HouseLust, surely has one of the most lusted over nursery's on instagram! Her use of the big banana leaf pattern and the honey-mustard colours from the walls to the floor pulls it all together beautifully. What a lucky boy her son is!
Nature's Way
Another nursery with the botanicals on the wall, I fell in love with Vicky Gooden's nursery immediately. The wallpaper reminds me of Where the Wild Things Are and the mix of materials work to complement each other whilst having a definite purpose for her child. 
Geometrics
A modern and fun way to pull in colour without overwhelming the interior style of a nursery, geometric shapes with pastel and muted colours can be a really good option. With the invention of frog tape and numerous online demonstrations, it is also an easy option. This nursery is in the home of Laura, founder of Pop & Punch, who has documented the renovation of her daughters bedroom.
Has this inspired you? Email me or tag @totterandtumble in your photos so I can see your nursery style!