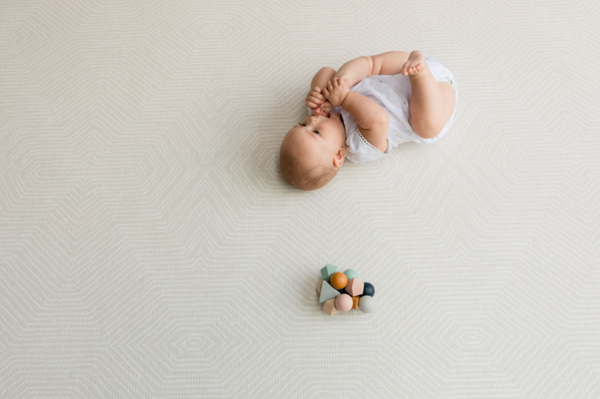 Trends | Minimalist Playroom
There is a growing trend for families adopting a minimalist approach to living. Buying and using less as both a sustainable and economic choice, as well as a way to keep their homes more streamlined. We look at why this trend has longevity and how you can implement it into your playroom.
Sparked partly by the pandemic when we were home more, as well as lasting lifestyle trends for Minimalist Living, spearheaded by influencers such as Marie Kondo and Shira Gill, there is a growing impetus to declutter and pare back, creating more considered spaces for the whole family. 
Playrooms, which would have once been a haven for endless toys, are now adopting a minimalist approach and it isn't just about having fewer things, it's about creating a useful space that can enhance happiness for everyone. Here are our five top tips if you'd like to get more from your little ones' play space, with less.
Muted tones are key for walls, floors, furniture and decor because they are timeless and keep the room bright. Choose near neutral shades such as White 03 or soft Taupe 02 both by Lick. These still provide a clean look but are a warmer choice over bright white or grey hues. Light wood on the wall or floor adds a subtle, natural tactility. Opt for lighting that isn't too clinical and stark, but is without an orange glow.
Choose furniture that is simple in design, but made to last. Make the most of alcoves or awkward spaces, with built in cabinets. Bespoke options made by a local carpenter may seem like a big investment, but are priceless in the long run. Alternatively, brands such as Tylko have storage solutions that can be configured according to your requirements and space. Repurpose and elevate smaller storage units from big box stores such as IKEA or Sklum, by adding furniture legs, box tags or sanding and repainting to the same tone as your walls. 
A playroom doesn't have to just be for

 

the kids, think about ways to create a functioning space that the whole family can use. Similar to a traditional Japanese Tatami mat which serves countless purposes, our playmats can serve many needs. As well as for tummy time or a quiet nap, they are also great for an exercise session or comfy spot for crafting once children are in bed. Large floor cushions, modular play sofas or bean bags are ideal alternatives to armchairs that everyone can enjoy. Store away on hooks or in cupboards to keep the space clutter-free and easy to clean, when they aren't in use.
Rotate toys and keep less on display. This helps prevent toy overload or the 'Supermarket Effect' as the Montessori Notebook puts it and really allows time for children to explore play things without being overwhelmed. For toy rotation, utilise shelving or baskets at a low level so they can access toys themselves, and keep the surplus in closed units out of view.
Pick sustainable toys, that are kinder to the planet or that have longevity through the different stages. Toy subscriptions like Whirli are toy box saviours. You can choose toys perfect for your little ones' age and then return and swap at any time. If you have a group of friends with children similar ages, you may want to think about starting your own toy swap group too! Do you all really need a jumperoo?