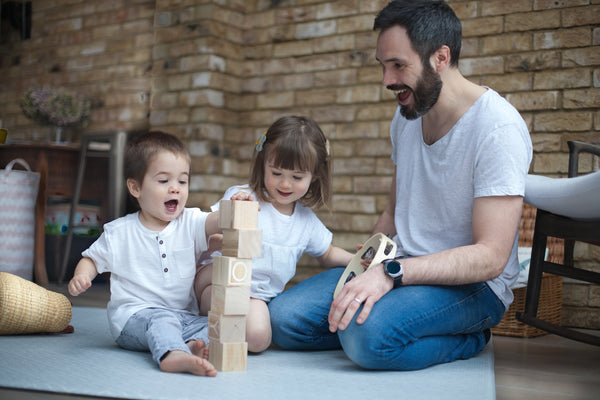 How to find childrens products that last.
 Why choosing sustainable, quality children's products is a parenting win.
Is it just me, or do children grow, change shape and change preferences (hello, strong willed toddlers!) on a daily basis?
Lots of children's shops, online or bricks and mortar, are set up in stages and ages, which, as well as being guiding, can also perpetuate short term buying and ultimately wastefulness. It was the same for us, and with our first child we bought blindly. Yes, we researched great products, but we didn't look to the future and consider how those products would suit us as our daughter, our family and .our home, grew and changed. And as a result, we wasted money and consumed too many products.
Take playmats for example: we started with a blanket style playmat for the newborn phase, which spent longer in the washing machine than it did on the floor.
Soon Ellie was either tumbling off it as she grasped the balance of sitting, and then moving, so we were soon onto the next option - the jigsaw puzzle foam mats, which she learnt to pull apart in moments, damaged easily and were impossible to keep clean. The fact that they were hideously bright was the final straw.
We even tried a thick rug, which was the worst option of all. It was impossible to keep clean as it trapped the all the normal debris of life with children. We ended up with a grubby looking, unhygienic layer between my child and the floor. However, it was at least one piece and didn't slip as she started tottering.
The second time around, I realised spending more on the items we used all the time was important, so that they would last, they would work for all the family, and they would make both ours', as parents, and our children's lives better. Then, when we bought the spontaneous fad items, it didn't feel so wasteful.
Here are my personal 5 top tips for sustainable children's products that last the years:
Buy the largest size moses basket or crib you can get – babies grow quickly and the official guidance from the NHS is that babies should stay in your room for the first six months. Whether you stick to that or not, having your baby in your room whilst feeding at night can be much easier. First time round, we had a standard moses but by 12 weeks we had to construct a cot in our room (no more room) to last until 6 months. Second time round, we had a Chicco Next to Me, which is that much bigger and lasted until Albie was 5 months, when he went into his own room and into the bigger cot. PS. If you do want to buy a moses of standard size- at least get one that you want to keep out to use as toy storage – check out The Basket Room – you'll never give one of those up.
On the note of cots, I really recommend that you get a cot bed not a cot, as long as you can fit it in. The sides come off and suddenly it lasts them until they are 4 years old, without having to get a new bed, new mattress, new sheets etc – and most still look like a sweet toddler bed as they come with a small footboard to put on. 
Age appropriate toys are wonderful and there are so many out there. Certainly, there are both small and large brands that think about the development before they design their products, rather than as an add on sales pitch- for example;

Etta Loves designs their muslins specifically with the development of a baby's eye sight in mind -so clever. And muslins are always handy!
The new Mokee baby gym uses black and white hanging toys that turn into rattles as they learn to grasp. But once babies can grasp and place objects, a whole world of toys opens up. Plus, when it is used with our playmats you won't need an underblanket.
Wooden blocks are a favourite as they can use them in so many different ways. The same applies to the trolley that often comes with them – toy storage becomes an aid to walk, which then becomes a toy in itself. If you are looking for ones with letters on for educational purposes, then look for lower case letters with the correct letter formation as children do not actually learn the capitals until they are in Year 1 in the UK.
Wooden stacking rainbow, like the one from Grimms – so beautiful as just décor, a simple stacking toy, but when children separate them and turn them over, there is so much fun to be had with this toy and that is often why you see them in so many Montessori settings.

As parents, we yearn for long-lasting, tough clothes for our children to wear, and ideally to be even tough enough to hand on to siblings, relatives and friends. Luckily for us, there is a growing shift towards producing well made, sustainable clothing for children. Even the high streets are following, though the real force is from the small independent brands. If you know you only will have one child, then you can still retain value by passing on or selling on. But if you might have more, there is a wide choice of unisex basic clothing that is not just monochrome or yellow. Companies like Organic Zoo, Mini Rodini, The Bright Company and, on the high street, Zara are my faves.
Our playmats! As you have probably read in our About page, Totter + Tumble started from a need to have flooring that would work for a newborn, toddler and style-conscious parents. Longevity was a main aim when designing and sourcing, not an add-on sales pitch. Have a look at our Instagram page to see how people are using their Totter + Tumble Playmats.