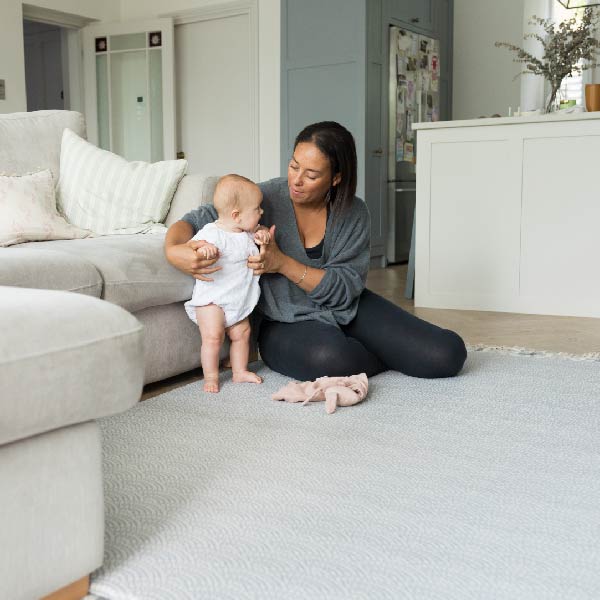 Creating a family home without losing your style
Family-friendly homes can be stylish and it's something we hope we can help with. After all, our Totter + Tumble playmats are designed to be neutral like a rug, but with memory foam padding for those little movers. Why compromise when you can have both?!
Whether you are nesting ahead of a new arrival or are keen to put a bit more of 'you' into your spaces, we've pulled together our favourite set-ups to inspire the process. We think each of these examples have managed to find a great balance between child-friendly comfort and peaceful style for parents, because being able to take five is so important. 
Open plan living
Open plan living allows the free flow of movement and light - and the ability to keep an eye on the kids playing as you make a cup of tea or rustle up dinner. They are a perfect fit for seamless daily living, as long as there is a sanctuary somewhere for quiet moments, like a garden or upstairs space.
Ex-interior designer and founder of one of our favourite small stores, Pop & Punch, Laura has shared this snap of her home with us. We love the clever use of space by hanging the kids Nobodinoz beanbag off the wall for easy tidying and the vintage wooden trunk for storing toys, keeping the place clear of clutter once her daughter is in bed. Laura knows her colours and has paired the terracotta tones of  The Dreamer with warm blue and peachy walls. We love her use of colour blocking to pull together and connect the different living zones as well. Our playmat looks like another rug in the room, creating a separate yet communal space for everyone to get down on the floor and read or play together.
The kitchen extension
A kitchen extension offers a similar feel to open plan living, with play and sitting areas in the heart of the home, but it also means other closed off downstairs rooms can be utilised when family members need five minutes alone.
Ashlee over @The_Suffolk_Nest has kept her home cool, calm and collected, choosing The Roamer's warm grey tones for her kitchen extension space. It provides a practical solution to that gorgeous stone floor, making it cushioned and safe for little ones to roam around and ties in beautifully to her neutral scheme. In a similar way to our Montessori Playmats that let children focus on their activity rather than the overstimulating surrounding, a practical kitchen extension with a harmonious interior scheme throughout, makes for a peaceful hub of the home.
When the living room is also the play room
When the living room and the playroom are in one, you can still achieve functionality for all members of the family without losing your style. We believe the key is in sustainability, choosing items and planning your layout that will work for years to come, as well as using clever storage to keep the toys out of sight post bedtime.
@Tahnee_mariee1 chose the Wanderer and it's slightly more greenish-grey chevron style for her living-come-playroom. Remember our play mats are durable and only require a simple wipe down with a gentle cleaner to get them sparkling, so you don't have to worry about trampling dirty shoes across the playmat in a set up like this. In the evenings, the toys can be stored away and homely spaces like this transform into relaxing grown up snugs, with a fire for those winter evenings. Or you can utilise the playmat for an evening pilates or yoga routine. It's a smaller room, but just as functional.
A home with mixed charm
We love a home with a special charm, particularly when a modern family home utilises characterful architecture, whether that's old or new. Thankfully it's not just Totter + Tumble who are looking out for the adults as well as the kids in thoughtfully styled homes like this, with many brands offering beautiful wooden toys and storage solutions, to fit into homes with this stylised aesthetic.
Here, home owner Jo, founder of the nursery interiors brand Mini Maison, balances a space needed for her young children as well as a period-come-modern style her and her husband enjoy. We love how she has mixed modern and period features together, making a light and airy space, without compromising on any of the necessities in her play-ready living room.
Aside from a design-led playmat from Totter + Tumble, functional, gorgeous toy storage can also make your daily life easier and your home beautiful. Watch this space for our next blog piece on the different types that may work for you.
Do you love the space you have your Totter + Tumble playmat in? Let us know - we would love to feature you and your home! Tag us in your pictures @totterandtumble #totterandtumble on Instagram or email us at info@totterandtumble.co.uk