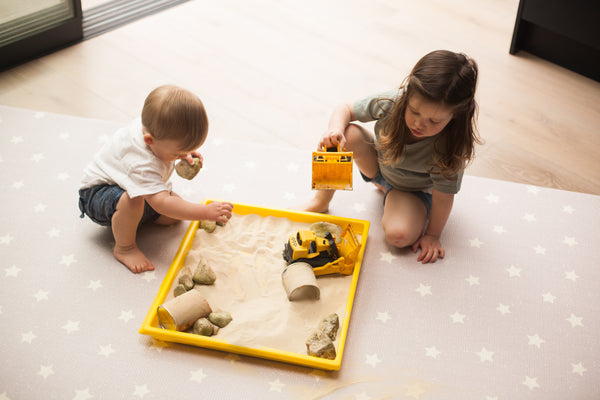 Family Play: Construction
Do you ever struggle to find easy and creative play ideas? Have you got the the jitters about spending the long holidays finding lots to entertain all your children - or even just one?!
Inspired by recent conversations with friends who are panicked about having weeks off with two or three children of different ages that don't seem to be interested in the same things- how to keep everyone happy and engaged?! So with my teaching hat on, here is my first suggestion for activities that will engage and satisfy the whole family… Construction!
What you need:
Access to stones
Play sand
A tray 
A tube
An assortment of materials from recycling, paper
Do you have a child in Key Stage Two (7-11 years old)? Well, design and technology is becoming a hot topic at school. Engage these children by challenging them with a problem for them to solve independently:
Can you make a bridge to span a distance of the play tray using just paper? Can you get it to support 5 Matchbox cars/ 5 brio trains/ 5 figures?
Meanwhile, if you have younger children, go out to a garden and source your stones for the construction site. Key Stage One (5-7 years old) children can be given a list to source, whereas younger children can be guided. We cut a Pringles tube in half for the tunnels and getting preschoolers to find stones that are both small enough to go into the tunnel and large enough to block the tunnel is a good challenge. 
Once you are set up, you could give your KSI child a challenge too:
Can you build a solid wall for your lego figures/superhero figures/brio characters/ animal figures using just materials found in the garden?
Generally however, most children in KSI and below will set their own challenges as part of creative play and will be set for hours on their own self determined projects. Early Years and preschool children will similarly play for hours using imaginative play and curiousity spurring them on. 
Even younger and it is the sensory experience of all the materials and the equipment, shovelling sand and stones back and forth, feeling the sand in their feet and hands, pouring, thumping, and creating different shapes.
And best of all - just make a lid or pour away into a bag for another day.
I'd love to see you having a go so make sure you tag us on instagram and use #familyplay