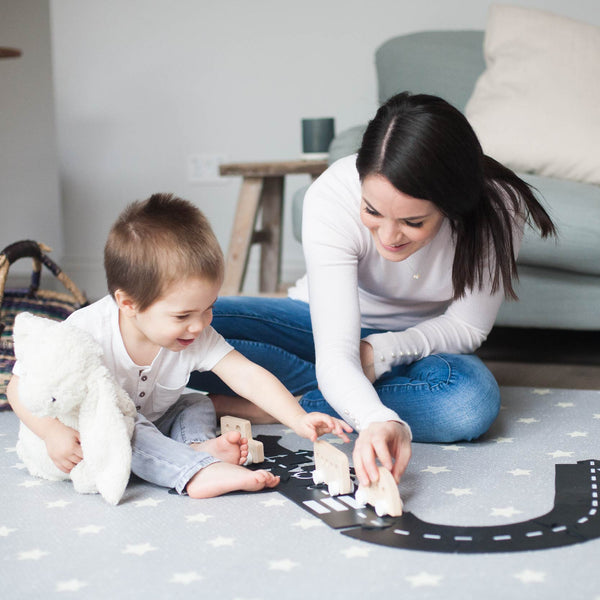 Tracks for Creativity
Once in a blue moon, I will be asked if I would consider putting a (beautiful, and muted) activity track on one reversible side of my playmats, and whilst I consider all the suggestions I am given, the answer for this is straightforward. No. 
It is not because I don't think activity mats and rugs don't have a place, or can't be done beautifully - they absolutely can. But the reasoning behind my decision is three fold: purpose, sustainability and better options exist. 
So what do I mean about purpose? You may be thinking that a road or train map has an obvious purpose within the world of play, and on one level it can do. Certainly it is a quick set up and ideal for taking out and about where you can't take lots of resources with you. With adult input, they can be used as a teaching tool and some are done nicely, avoiding the bright colours and stereotypical gendered designs. But, perhaps it is the teacher in me and the fundamentals of Montessori I adopt in the design process of Totter + Tumble play mats (take a read of What the, Montessori? blog post if you're interested), but I have always found that the most enjoyment comes from the creation of the track scene.
Both my children have always spent ages building and creating both road and train tracks, but actually only pushed the vehicles around for a very short time in comparison, before switching part of the track as their imagination has continued to be sparked. Similarly, in the classroom children always seemed to have an imagined scene they wanted to create, rather than opt for the road map that was printed on the classroom rug. 
With the purpose on the mind, longevity is also an issue. How long would a fixed activity track be stimulating in play? If you have a train track, what if they are into cars? Or boats? Or lose interest altogether. Suddenly it has lost its original purpose and becomes a phase-based purchase, which is an aspect I try to avoid. By having subtly stylish designs and more muted, interior orientated colours Totter + Tumble play mats can last longer and through redecoration, but still be functional in play.
So that brings me to the third aspect- there are better options. If you have read this and thought my child loves to play with vehicles, here are some options that I think are worth good consideration - plus they can all be used with a Totter + Tumble playmat too.
Wooden train tracks
Brio is the ultimate champion of the sustainable, wooden train tracks. Like many people, the Brio we have in our house has been through two generations and never fails to please any child. From the different shaped tracks, the multitude of trains - both electronic and push trains - and the incredible range of tunnels, platforms and signal, Brio is a never ending source of creativity.
But other brands have also cottoned on to the brilliance of a wooden train track set, many of which fit with Brio giving you a chance to try at a more affordable price point before developing your colleciton. Tesco is widely cited as a great source for the basic set, as is the Early Learning Centre  and the John Lewis set is particularly praised for being enjoyable for older children too. 
Road Tracks
 Hands down my favourite train track is the Way to Play road track for its versatility and ability to go up, down and around. You can use them in the garden, in the bath, up the stairs, and on your Totter + Tumble Play Mat! In their own words, Way to Play have a similar view point to me in using tracks in creative play:
"We believe that children are explorers and inventors. All it takes to unleash their imagination is a fun challenge. Waytoplay gives children the tools and the space to make up their own game. Encouraging inventiveness, problem solving skills and creativity: essential skills for now and the future. Waytoplay stands for 100% unplugged and offline fun."
 However I have also come across washi tape that looks like a road and tracks when watching one of Play.Hooray instagram live videos. 
You can get this tape from lots of places, and whilst you can use it directly on your Totter + Tumble playmat, Claire from Play.Hooray suggests creating tiles by placing the tape on strips of cardboard to get more longevity out of it and to allow for an easy change when being built by little fingers. 
Still Want an Activity Mat?
As I said before, activity rugs can be done well, so I have included a few that have also considered interior preferences in their designs. The following rugs are best on a carpeted floor as they are thin and therefore may move on a hard floor without an anti-slip rug underneath. 
H&M Cotton Rug
Kids Concept Woodland Rug
Another option would be this roll out Olli Ella colouring roll, which would be so easy to change around and cut off if you wanted to take it out and about.
 Happy creating!